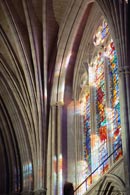 Saint John First Baptist Church was organized on January 22, 1961 at the T.C. Ayers Community Center located at 1722 Winnebago Street.
Rev. G.T. McBeth, Moderator of the American Baptist Western District Association, Rev. H.C. Dilworth, Vice-Moderator and Rev. J.H. Mosley, pastor of Mount Moriah Baptist Church of Goliad, Tx. assisted in the organization.
Sixty-three faithful Christians recorded their names on this day as Charter Members and the name Saint John First Baptist Church was chosen by majority vote.
Rev. Walter Turner was elected to serve as interim pastor.
After the initial organization Sunday services were held in various homes.
The first prayer meeting was held in the home of Deacon and Sis. Roosevelt Pullam, with the second being held in the home of Sis. Dan Walker. It was in this prayer meeting that we received the first candidate for water baptism, Bro. William Lott.
The first Lord's Supper was administered by Rev. John H. Mosley on February 5, 1961. The first birth recorded in the church was Sharon Denise Davis, daughter of Bro. and Sis. Henry Davis.
Rev. Walter Turner was ordained into the ministry in February of 1961 at a State Convention board meeting held at Saint John First.
On Palm Sunday, March 22, 1961 we entered our first permanent place of worship located at 1503 Peabody Avenue. Sis. Mary King cut the ribbon at the entrance service. Deacon J. Preston had seen the building which was an old dilapidated house. With the assistance of Bro. Lonnie King the old house was converted into a beautiful place of worship.
Bro. Oveal Williams organized and lead an organ fund that enabled the church to secure and pay for musical instruments.
In September of 1961 Rev. James E. Obey was called and became the first pastor. He served faithfully until January of 1964. Following his departure Rev. Walter Turner again served as interim pastor.
The first Deacons were ordained on March 11, 1964. They were: William Laws, Herman Garcia, Lloyd A. Pullam and Southern Young.
Property located at 1522 Stillman Avenue was purchased on August 17, 1964 to serve as a parsonage. The cost was $11,600.
Rev. Allen O. Gary was called as our second pastor in September of 1964 and served faithfully until October of 1967.